Your Guides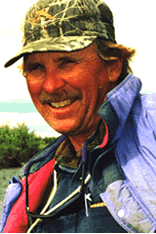 Registered guide Bus Bergmann owns B&B Fishing Adventures. Bus grew up in California and was taught to fly-fish at an early age by his father, Doc Bergmann. They fished for steelhead trout from California to the famous rivers in British Columbia and for tarpon in Costa Rica and the Florida Keys. His first fly caught steelhead trout was from the Russian River at age 10. Following his dreams, he started guiding in 1974. Bus worked four seasons in British Columbia for Babine River Resort and Babine Norlakes Lodge as well as guiding two seasons in Alaska for Bristol Bay Lodge. In 1980 B&B Fishing Adventures began by guiding the shallow water flats of the Florida Keys and pioneering wilderness float trips on the Kanektok River. Bus personally supervises all the trips.
&nbsp


All our guides are certified in CPR & first aid. These men make their living as guides. Besides being expert boatmen, fly fishers, and instructors, they know and love their work. Good guiding, hard work & dedication to all the details is what make these float trips so special.
---

Copyright © 2012 B&B Fishing Adventures, All Rights Reserved.

BandBFishing.com is optimized for Microsoft IE 4.5+, and for 800x600 resolutions and higher.