FAQ's (Alaska)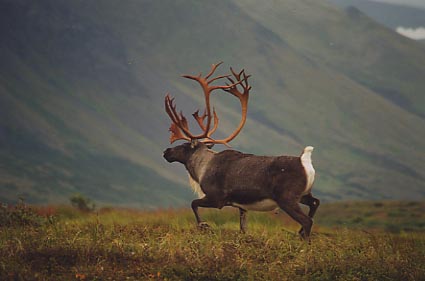 Is there a chance of seeing wildlife on the trip?

We see brown/grizzly bear, caribou, fox, mink and beaver on a regular basis. On rare occasions we see moose, wolf, porcupine and river otter. The river supports wonderful bird life including: bald eagles, falcons, rough legged hawks, ptarmigan, Arctic terns, gulls, ravens, warblers, numerous shore birds, sand hill cranes, tundra swans and many species of waterfowl.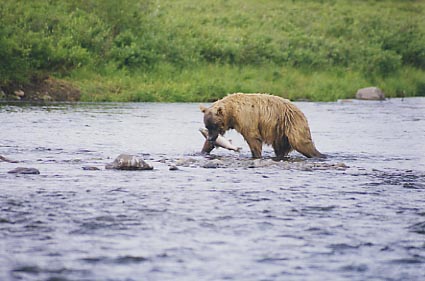 Are bears a problem on these trips and do you recommend bringing a weapon for protection?

In all the years of operating float trips on the Kanektok River, bears have not been a problem with our clients or in our camps. Bears are often seen especially in the upper sections of the river. Each guide carries a 12-gauge shotgun along for protection. Clients are not permitted to have firearms of any kind on these trips.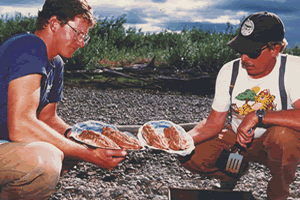 What about eating fresh caught fish along the river or taking home a salmon on the last day of the trip?

We are strictly catch & release of all species. Our U.S. Fish & Wildlife permit requires that all fish be released back into the river. We serve fresh smoked king salmon nightly as appetizers. No take home or trophy killing is permitted.



What about bugs? Is a bug jacket or head net advisable for this trip?

Yes, there are plenty of bugs in Alaska. The wearing of long sleeves and using insect repellent is part of the program. In camp Mosquito coils are used to eliminate bugs in the tents. If you have any problems with insects, a bug jacket and head net are suggested. Bugs and your psyche are mind over matter… you don't mind, it don't matter!
What happens to the river and fishing with heavy rains? Is there still fishing if the river rises and gets dirty? Is the weather cold & rainy often?

One of the great aspects of the Kanektok River is its ability to rapidly clean up after a big storm. High water levels make the trout, Dolly Varden and grayling fishing more difficult. On the other side of the coin, high water makes for the best salmon fishing. The Gulf of Alaska is the major weather area in North America and it doesn't matter which trip you are on if a storm hits you will need to have your clothing layered properly. The key is being prepared with the right clothes and raingear. The "What to Bring" section describes what you should have along on this trip.
Do I need to bring along my own sleeping bag? How about a sleeping pad? Pillow?

Yes, you will need to bring a good stuff type sleeping bag. The pile or synthetic materials are better than a fluffy down bag. You can use the sleeping bag stuff sack each night as your pillow. Supplied for each guest is a Therma Rest self-inflating sleeping pad to use on top of your cot.
Is there plenty of fishing time each day? What about wade fishing in the campsites?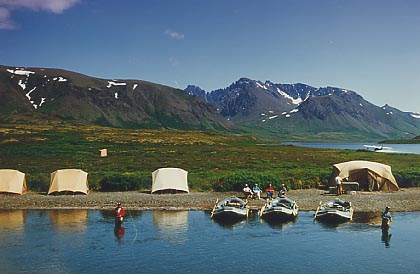 Your wake-up call every morning is 6:30 am with hot coffee or favorite beverage delivered to your tent. Breakfast is served at 7:00 am. After breakfast you will have time to go back to your tent to pack up your bags, fold up your sleep tent and take your gear down to rafts. The rafts are then loaded and we start floating around 8:30 am. We spend the morning float/fishing until lunchtime, which is served streamside. After lunch we continue float/fishing to our evening campsite arriving about 5:00 pm. After the rafts have been unloaded and camp gear is moved to its desired location, the guides will begin to set up camp. Your next decision is whether to sit back and just relax or continue fishing the camp waters. It generally takes an hour for the camp to be up and ready. Appetizers and hot showers are ready around 6:30pm and supper at 7:30 pm. After supper you can wade fish the camp waters until you are satisfied.
How many outfits are recommended for this trip?

We recommend that you bring three fly rods for the trip: a light rod for dries/indicator style fishing, your primary/boat rod that fishes a sinking tip line/or floating line and a salmon rod. By having three outfits ready to go you will be fishing more with the changing river conditions we encounter.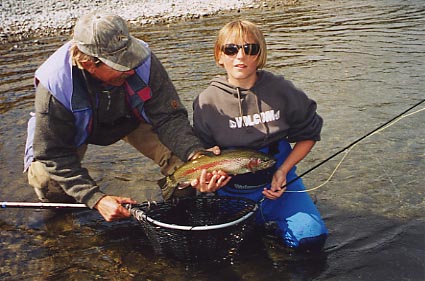 Do women and young kids enjoy the trip?

We have had wonderful times with groups, couples & families. Our youngest was 9 and eldest was 81. The float trip is ninety miles in length on a remote wild river. It requires that everyone be in good health, physical condition and have the proper clothing.



Are there any emergency communications along on the trip?

Emergency communications equipment carried includes: ELT (Emergency Locating Transmitter), Iridium satellite telephone, a VHF ground to air radio and three radios for raft-to-raft communications.

---

Copyright © 2012 B&B Fishing Adventures, All Rights Reserved.

BandBFishing.com is optimized for Microsoft IE 4.5+, and for 800x600 resolutions and higher.