What to Bring
Sleeping bag, synthetic fiber style stuff-type
Good rain jacket; rain pants are necessary using hip boots
Fleece jacket/vest (wind stopper)
Long underwear; 2 sets, light/mid weight Capilene
Wool socks/outer; light weight wicking sock/under
Warm sweater/wading pants
Extra set of clothes
Under clothes; three shower nights
Hat with brim & stocking cap
Bath towel, toiletries & medications
Camp shoes
Chest wader/hip boots; no metal studs or cleats
Fishing gloves; Miller mitts
Cotton camp gloves
Stuff sack to organize small items
Polaroid sunglasses/amber brown lens/are a must!
Camera/film/camera battery
Insect repellent/bug jacket or head net optional
Sunscreen/chap stick
Flashlight/batteries for August/September floats
Fishing license
Fly vest/flies/tackle
Libation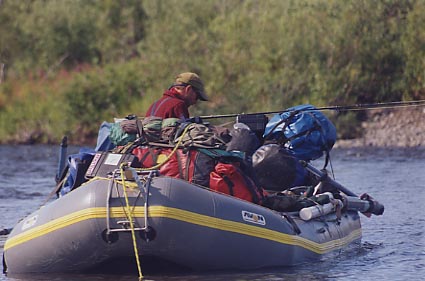 It is very important that you bring the necessary items to be comfortable on the trip and at the same time not haul around extra stuff you are not going to use. Space is limited and the aircraft we charter has weight restrictions. Please try to keep your luggage to a maximum of 55-60 pounds with no hard sided suitcases, wheelie style bags or bulky items.
Weather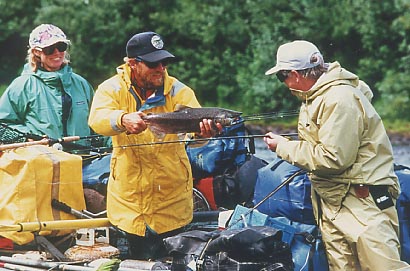 Alaska's weather is unpredictable. The best way to dress for Alaska weather is to layer your clothing. Temperatures usually range from the 40-60's. Capilene long underwear works well layered with fleece. The fleece jackets/vests with wind-stopper fabric inside are great with the wind chill factor. Don't forget a wool sweater, fishing gloves, stocking cap, a hat with brim and a good quality rain jacket.
&nbsp

Waders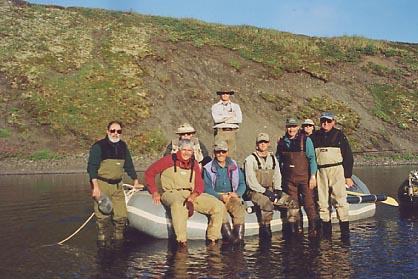 A good chest wader is recommended. The breathable Gore-tex waders have proven very comfortable on our trips. Hip boots with rain pants work in the rafts, but restrict some wading opportunities. Most of the fishing takes place while floating or anchored within the rafts although, we do stop quite often to wade. Our campsites offer unlimited wade fishing. Please be sure that your boots do not have metal studs or cleats, as they are not compatible with rubber floors in the rafts.

Liquor
Be sure to bring along your favorite libation for the evenings. Plastic containers work well and are safer than glass bottles. Care should be exercised to insure that caps do not leak and bottles are not damaged during travel. Arrangements for having beer along can be made with us so that it won't effect the weight restrictions in the aircraft.

---

Copyright © 2012 B&B Fishing Adventures, All Rights Reserved.

BandBFishing.com is optimized for Microsoft IE 4.5+, and for 800x600 resolutions and higher.